Reaching The Unreached
The vision of RTU is to see 'a movement of Christ centered churches reaching the social deprived in a grass roots way'.
The mission (how we do this) is through, 'Linking and Training.'
Since 2013 we have worked towards this in the following ways:
Ran a conference in May 2013, where many gospel workers were able to network and fellowship together.
Create a link between London and Middlesbrough, from which New Life Church Middlesbrough was planted with the support of New Life Church, Roehampton.
Provided training for gospel workers on numerous estates through the Urban Ministry Program.
Ran a conference in 2016 and 2017
Planning for the future of RTU
We would very much appreciate your prayers for this work.
Come to our 2020 RTU conference, Saturday 1st February at LCM HQ, London.
Pls book your ticket here: https://www.eventbrite.co.uk/e/reaching-the-unreached-2020-tickets-82840619523
Follow Duncan's blog/twitter/facebook for the latest conference info.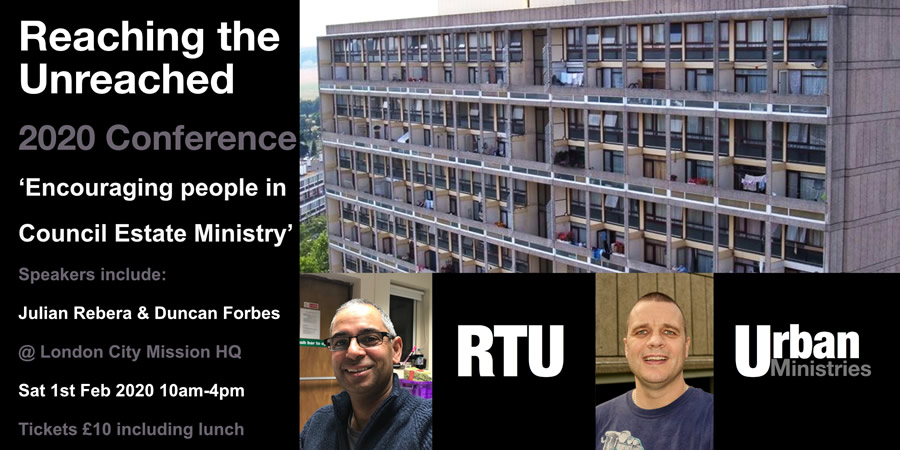 ---
Here are the links to talks given at previous RTU conferences:
Real Growth, a new way to assess church growth
Christ Centered Church by Duncan Forbes
Reaching the Socially Deprived by Graham Miller
Grass Roots Ministry by Simon Smallwood
Q&A session on Messy Church, Discipleship, Class & Race issues
How the Gospel spreads across cultures in Acts 1-11 by Duncan Forbes
Culture Clash by Efrem Buckle
God's way of salvation' Isaiah 25 by Neil Robbie
Disciple Everyone With The Truth That Leads To Godliness - Titus 1:1-4 (Duncan Forbes)
Healthy Churches Need Healthy Leaders - Titus 1:5-16 (Andy Mason)
Endure Unto The End (Julian Rebera)
Women's Ministry in Deprived Areas (Lizzie Smallwood)
Addressing the heart (Tim Chester)
Gospel ministry according to the parable of the sower (Andy Mason)
Possessing victim mentality (Duncan Forbes)
Change is possible (Pete Jackson)
Discipling multi-cultural congregations (Andy Mason)
Equipping women to pursue gospel friendships (Jane Casey)
Realistic expectations for missional discipleship (Dai Hankey)
Question & answer session (Andy Mason, Jane Casey and Dai Hankey)
Two Conversions: The unthinkable reach of the Gospel (Steve Casey)
Why we need to preach the sovereignty of God in deprived areas (Duncan Forbes)
Rap in ministry (Robert Prendergast & Efrem Buckle)
Case Studies and Panel discussion (Steve Casey, Efrem Buckle,Duncan Forbes, Peter Froggatt, Andy Mason)
No standstill when God shows you reality (Simon Smallwood)
---