Urban Ministry Program
---
The Urban Ministry Program aims to fulfil Jesus' 'Great Commission', and help people 'make disciples who make disciples in the urban context.' By urban, we mean housing estates and inner city neighborhoods. Urban Ministries has partnered with Oak Hill College to ensure high quality training.
NEW: UMP MODULAR
In the last two years we've run structured programs for people from London, Brighton, Middlesbrough, Leeds, and Barnsley. To make the course even more accessible, we're now making the course more accessible with the new UMP Modular scheme.
The UMP can now be taken one module at a time, in any location in the world, at the pace that suits your lifestyle best. Teaching videos and workbooks are provided, but no work needs to be submitted or marked. Ideally, small groups in a church would chose to go through a module together, at a pace that they all agree on. Once they have completed that module, they could then pick another module of their choice.
---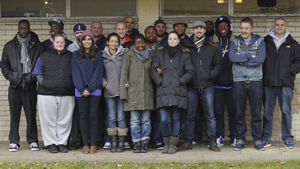 What kind of training do you need for Urban Ministry?